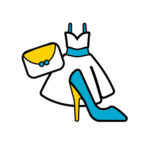 Fashion PR, our first love
You can never forget your first love. Ad Mirabilia started as a fashion PR agency in Milan. Lorenza Bassetti, the agency founder, started her career in PR for the fashion sector, working for some of the most renowned Italian designer brands.
And today, fashion still makes our heart beat. We work with the enthusiasm of a fashion addict and always with a tailor made approach, with each project assigned to a team of PR professionals with specific skills and backgrounds.
Our PR approach has a lot in common with the world of fashion. Attention to details, style and image are part of our DNA. These are the values we share with fashion and that's why the services we offer are well suited for fashion brands.
Our long term experience ranges from women, men and children clothing, both casual and ready to wear, to shoes, bags and eyewear, from jewellery to luxury accessories.
Clients who have chosen us as a Fashion PR agency
What we do every day for Fashion brands
Fashion brands rely on us for the definition and the development of tailor made communication programmes.
And, in return, we offer them consultancy, strategy, communication plans and measurement of results.
Media Relations and events
Thanks to our long term experience of fashion press office in Italy we have built strong relationships with the most important players in the world of fashion communication: journalists and opinion leaders, fashion editors and stylists are our daily partners.
We get in touch with them through our desk press office activities and we regularly visit their editorial offices, we organize meetings in the agency show-room, located in the heart of Milan, and each season we organize press days to present new collections in exclusive locations or in our offices.
With a personalized mix of activities, we create valuable relationships between brands and the press
Influencer Relations
Product placements represents one of Fashion PR objectives.
That's when our influencer relations skills come in handy: we map and analyse bloggers, influencers and celebrities profiles and we involve them in events and one of a kind experiences.
We aim at setting new trends organizing special initiatives and photo opportunities aimed at social media sharing.
Corporate PR
Are you looking to add value to your company image and reputation in Italy?
You can do it with our Corporate PR services, including press office activities involving key opinion leaders from the most authoritative media to business networking opportunities.
Are you looking for a PR and Marketing communication service specialized in Fashion in Milan? Contact us, you'll like our style!