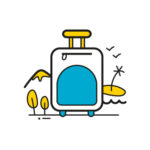 PR and Marketing for Tourism. Travelling towards wonderful things
Travelling is part of our name. Ad Mirabilia means "towards wonderful things" and that's' the final destination for each tourism and travel communication project we develop for the Italian consumer and corporate audience.
As a Milan-based PR and Marketing agency for the tourism sector, we have guided our clients in the evolution of tourism towards a lifestyle dimension, in an age where travelling is increasingly affordable for everyone.
Our creative and professional team members specialized in Travel and Leisure, work every day to develop content that makes destinations and services for the online travel industry interesting and desirable.
Clients who have chosen Ad Mirabilia as a Tourism PR Agency
What we do every day as a communication agency for the Tourism sector
We let ideas travel, we elaborate strategies, we produce content, we identify and involve media and influencers to grow public awareness and increase traffic to sites and destinations.
Media Relations
In our long journey into the world of PR we have developed a wide network of contacts with the media and journalists – both specialized and mainstream – the starting point of all our Media Relations activities .
We select the most suitable stakeholders for each different news we distribute, offering them made to measure material, building tailor-made news and stories, organizing meeting and press tours. Ours it's a carefully defined job, based on personalization, attention to details and the creation of original news created to be shared on social networks also.
All this within a carefully planned programme of activities, coordinated by a team specialized in communication and marketing for tourism.
Digital PR e Social Media
Travelling starts on the web. This is where people seek advice, inspiration and opinions to organize their holidays. And it's where we create connections with Italian and international brands and their public. How? Through accurate Digital PR and Social Media Marketing strategies, aiming at intercepting users exactly when they are searching for information.
Come on board: we will arrange the journey that will lead your brand to success. Contact us.