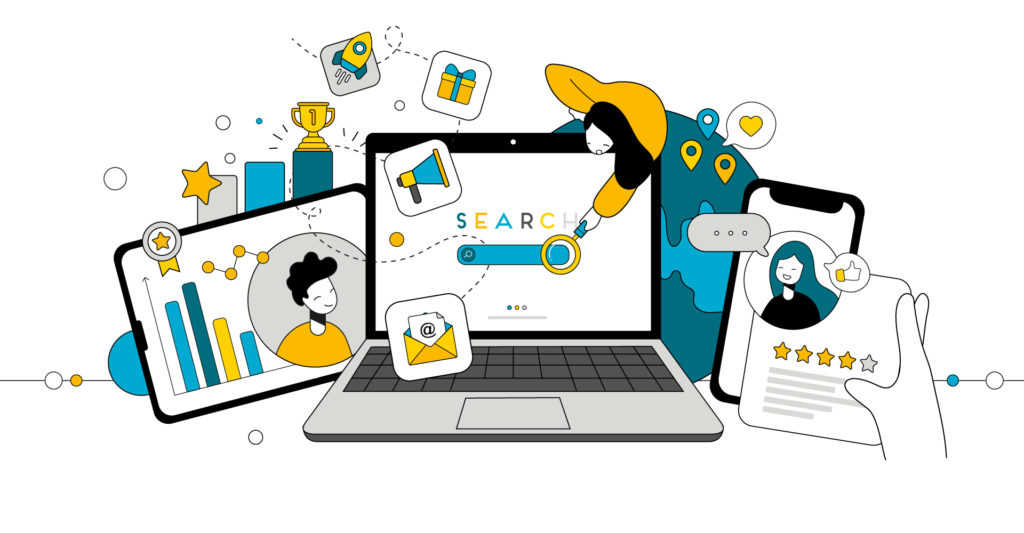 Digital PR: reach your audience and win trust on line
What is Digital PR and why is it vital for your business? Two main reasons: customer journey and online reputation.
Behind any buying decision there's a journey: the steps people go through before purchasing products online or contacting a company for their services. That's the customer journey, the digital path to purchase when people search information on Google, read news and reviews and compare prices.
During this journey, the presence of your brand plays a crucial role for your business. That's why listening to online conversations and monitoring where and when you are mentioned is vital to understand your audience's perception.
Digital PR means planning strategic web monitoring activities combined with the production and distribution of relevant on line content to grow brand reputation, awareness and perception.
As a Digital PR agency with offices in Milan, Ad Mirabilia helps your brand increase its on line visibility, stimulating users 'attention towards your brand just when they are most interested about your product or services. You'll see the results and you'll be able to measure them.
Three Reasons why you can't do without Digital PR
First of all, if you want to take full advantage of the digital landscape, your company website is not enough: Digital PR and other web services such as Influencer Relations, are key to get your brand known, encourage audience curiosity and gain trust, to drive people's choices towards your brand and products.
Next, with the distribution of relevant content and a personalized plan of actions, Digital PR represents the most effective way to create multiple touchpoints for your brand and products.
Finally, if you ignore Digital PR, you will ignore your potential customers and their journey will end in the hands of competitors.
Why choosing Ad Mirabilia for your Digital PR activities?
Here at Ad Mirabilia, Digital PR activities are made to measure, from planning to the definition of KPIs. Come and visit us to talk about your project.
Our Digital PR services:
Content Production: drafting and editing of SEO optimized web news releases relevant for both users and search engines. Avoiding pure promotion, we create informative and useful content for each audience
Multimedia material: images, infographics, video in support of on line content distribution
On line media mapping: selection of websites, magazines and blogs (mainstream and specialized) for news distribution
Publishing of content on the agency on line press room and /or creation of dedicated on line press rooms
Content Planning: we schedule content and develop real time PR programs based on seasons and trends including distribution of dedicated news
Link earning: link building activities on selected websites in support of search engine indexing
Monitoring and analysis of web reputation: we monitor the web manually and with the support of dedicated tools to detect mentions of brands and their competitors; we identify influential sources and topics, we listen to conversations to gain consumer insights.
That's how we get your brand known on line. But we can offer other web services too: Social Media activities, Influencer Relation programmes, and we help you to manage on line content on your owned channels like your website or blog.
Get in touch come and visit us in our Milan offices: we'll be waiting for you with a coffee and many ideas for your business.