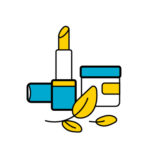 Communication for Beauty & Health sector. Our beauty PR treatment.
Beauty means image, and image means PR. At least for us.
Cosmetics, face, body and hair products brands that worked with us know it very well, because we have shown them how our communication for the beauty sector brings results.
Our experience in the world of Beauty includes brands, franchising stores, and companies specialized in direct sales.
Ad Mirabilia has also gained experience in the health and personal-care sector. We have supported companies producing medical accessories or offering wellness and aesthetic medicine services with personalized PR e Marketing Communication activities.
Clients who have chosen Ad Mirabilia as a Beauty and Health PR Agency
What we do for Beauty and Health brands everyday
For our Italian and international clients in the beauty and health sector, we take care of promoting their products and support professional opportunities for their beauty experts, including leveraging on social selling activities.
Media Relations and events
Communication programmes for cosmetic products cannot be done without Media Relations involving a wide range of media to make brands more attractive to the public eye.
Our agency has forged relationships with well-known italian journalists and opinion leaders in the world of beauty; key contacts who are crucial to guide consumers' choices with their online and offline opinions that can give products sales a real boost.
We also organize press meetings and events for opinion leaders to present new beauty lines and for product testing experiences to obtain articles and reviews on female magazines and on the most popular blogs. Talking about blogs…
Influencer Relations
It's undeniable: with their social media buzz and You Tube tutorials, beauty blogger can determine the success of a product. That's why we offer Influencer Relations Programmes link]: effective treatments to grow people awareness about cosmetics products.
Are you looking for a Milan-based agency specialized in the Beauty and Health sector? Contact us, you'll find out how beautiful it is doing PR with Ad Mirabilia.