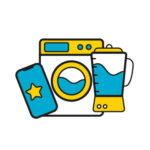 Communication for Technology and Consumer Electronics. Innovation loves PR!
Every day there are hundreds of new tech products available and people rely more and more on reviews and articles before buying.
That's why Public Relations are essential to promote smartphones, tablets, videogames, apps and other consumer electronics. Because PR activities Involve on line tech experts that influence people's opinion and allow brands to achieve visibility on specialized press.
Why are we the right partner for this sector? Because we talk Innovations every day.
A smart and up to date working method, sharpened in over 25 years of activities next to Italian and international mobile phones brands, producers of lighting systems, home theatre solutions, musical instruments and white goods.
Clients who have chosen Ad Mirabilia for Technology and Consumer electronics communication
What we do for technology and consumer electronics brands every day
As always, we develop personalized PR programmes.
Digital PR e Influencer Relations
Consumer electronics and B2C tech business travels mainly on line, especially on blogs, where people search for reviews before buying.
What does that mean? It means we need to enter this journey, called customer journey, with the aid of Digital PR and Influencer Relations a activities. That's where we come in, by creating a mix of made to measure activities starting from on line monitoring to the production and distribution of content up to the involvement of the most popular bloggers for product reviews and testing. Always with an eye on what are latest the market trends and consumer habits in Italy.
Media Relations
We have also gained experience in the B2B market for a variety of technological applications in the field of mobility, security and digital imaging.
We carry out Media relations focussing on specialized press, taking care of even the more technical aspects of communication, developing case studies and supporting companies in attending trade fairs and events
Do you want to give a boost up to your brand communication? Press
"On" and Contact us