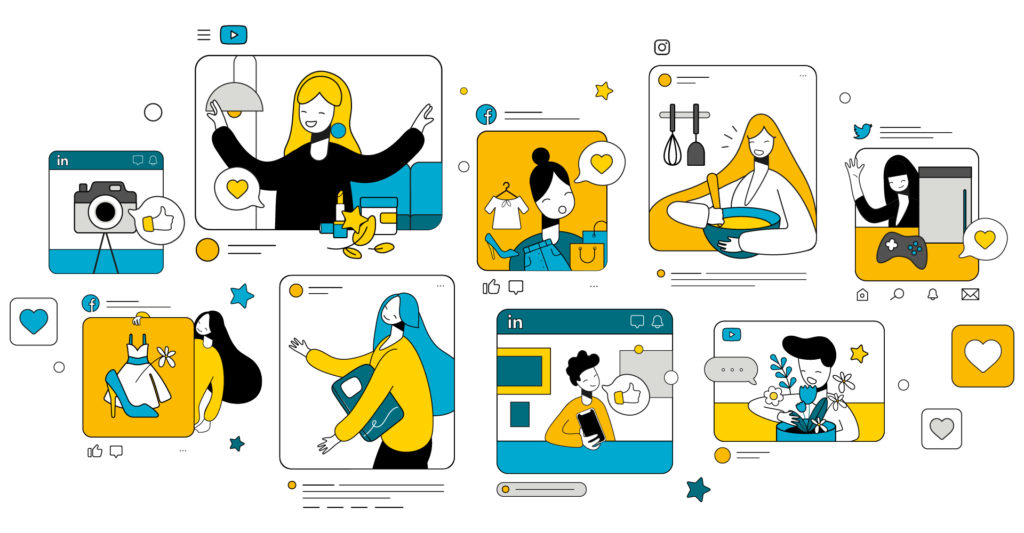 Find your brand ambassadors
Internet is an extraordinary resource for everyone. Everybody is online to source for information, to get inspired, to cultivate passions and make choices.
But in the era of information overload and with hundreds of products available, choosing can be often a difficult process. Faced with endless possibilities, we rather trust the advice of a "friend " or an expert than promotional messages coming from brands and companies.
If you want to be heard, let the right people talk about you: they are called influencers.
If your product or service grabs the attention and interest of an influencer, your brand can also win his or her followers over. Think of what that means in terms of increased awareness, engagement and word of mouth potential your brand could benefit from
Who are influencers and why do they matter for your brand
Who are influencers? Content Creators, Bloggers, opinion leaders, trend setters, celebrities: people that are well known within their communities and, above all, are perceived as credible.
Passionate and competent in their field of interest, they inform, launch trends and bring news to their fans'attention, inspiring and offering their personal point of view.
People trust influencers, listen to their opinions and share their content on and off line because they perceive them as a guide and a reference.
Opinion leaders also help brands and companies to better understand consumer needs and preferences, gain credibility and get in touch with a wider audience.
Not just experts and professionals. Influencers can also be "hidden" among your audience. They may be fans connected to your brands through their social media profiles and are often very active users. They are ready to play the role of brand advocates and tell their friends and followers about your messages and content. That's the power of word of mouth!
Even if influencers are very much linked to the digital world, projects with opinion leaders can also be developed offline. This is true especially in business to business, when professional categories are involved and where experts play a leading role for the entire industry.
How do you engage influencers? That's our job!
How Ad Mirabilia takes care of Influencer Relations
Influencer Marketing works because it's based on personal views, authentic and credible content. That's why mutual understanding and engagement must be the basis of any brand – influencer relationship.
Here at Ad Mirabilia, we develop influencer relations programmes either within integrated communication projects or as one-off activities.
Influencer mapping and analysis
We use the most effective digital tools to identify influencers closest to your brand sector and style. Then we analyse the identified profiles by monitoring their blogs and social media profiles to observe their interactions with the public. Are they more popular on Instagram or Facebook? How many followers and what is the level of their engagement? What type of content do they publish more frequently?
Involving relationships and tailor made experiences
After the selection phase, we involve the chosen influencers by presenting them products and services, we follow their interest and go along with their passions. In a few words, we cultivate relationships. Nothing has to be forced: being credible in the eye of their audience is crucial for any influencer. Their contribution will be effective if you'll let them talk about your brand and your products "in their own way", in line with their followers' expectations.
If word of mouth is mainly an online process, relationship between influencers and brands are strengthened offline. That's why we plan and organize tailor made experiences and events, special moments to build solid and profitable relationships that bring tangible results, like social media sharing or blog posts.
Find out all our web services: Digital PR, Social Media, and our Content Marketing solutions for the management of your owned channels: website, blog, etc.
Get in touch to learn more about our Influencer Relations programmes. We are ready to find new brand ambassadors for your product or services.