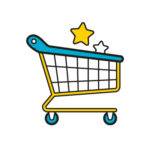 Retail, e-commerce and digital payments PR. The soul of the trade!
Selling in Italy today isn't like 5 years or even one year ago. Today, e-commerce brands and companies in the retail sector cannot avoid to keep an eye on visibilty and reputation as their audience needs have changed dramatically over the last few years.
We know it well because we live this evolution every day when working for our retail and e-commerce clients, developing consumer and corporate communication projects integrated with PR activities on traditional and digital media.
The right mix for each brand
Over the years, we worked with a wide portfolio of clients ranging from modern distribution companies, franchising, trade associations, multi products and specialized e-commerce brands, especially in the fashion sector.
We are also specialized in loyalty programmes, the strategies designed to build consumer trust through reward cards, coupons and crm programmes (customer relationship management).
Clients who have chosen AD Mirabilia for Retail and e- commerce communication
What we do every day for Retail and E-commerce brands
Communication activities for the retail world including e-commerce, aim at maximizing brand visibility, strengthen reputation, increase traffic and boost sales.
That's what we do with a mix of digital and traditional PR activities.
Digital PR
In the digital age we all search news, read articles and reviews, compare products and prices online. More and more we have already acquired hundreds of information on a product before entering a shop. Not to mention e-commerce, where the entire process of product analysis and price comparison happens in a few clicks.
That is why today it is crucial for companies to intercept potential customers during the so-called customer journey, or their "personal journey " towards their final buying decision.
With our Digital PR services we strengthen the on line presence of brands and products, offering visibility and building reputation.
Through the production and distribution of SEO optimized original content, we make sure that our clients products and services get the right visibility on search engines, exactly when users are browsing around searching for inspiration.
Comunicazione Consumer
Media Relations are also vital for the retail industry. Magazines, shopping guides and shopping columns influence readers purchasing choices, inspiring potential buyers. With our in depth knowledge of the Italian media scenario, we can be your perfect PR partner.
Our product communication programmes for retail and e-commerce brands are designed and scheduled in line with sales campaigns to enhance brands image and promote their products portfolio

E-commerce companies also fall for the charm of traditional press, because it adds credibility and increases the perceived value of digital brands in the offline world.
Finally, we can offer retail and ecommerce brands our Marketing Communication services: from the creation of tools and promotional materials such as catalogues, leaflets to windows display and in-store initiatives and events.
Do you want to increase sales? Working on visibility and reputation of your brand will reward you. Call our office in Milan.