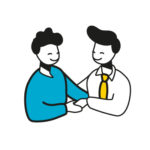 Communication for services, associations and and fin-tech organizations. First Class PR
Service companies, fintech and start-ups and Saas platforms, research institutes, HR and training agencies, universities, trade fairs organizations: our experience in managing communication programmes for the service sector is wide and well qualified.
From the analysis and the definition of key messages to the development of Corporate PR and Media Relations programmes, our tailor made approach, has always been successful.
Clients who have Chosen Ad Mirabilia as a PR agency for the service sector
What we do every day for the Service sector
Adding value to Corporate image, monitoring and reputation management, generate visibility and authoritativeness. These are the main goals of the communication projects we develop for companies and organizations operating in the Services sector.
From Corporate PR to Media Relations, through Digital PR, we work every day with passion to bring our clients measurable results to emerge on the Italian market.
PR for Human Resources
Ad Mirabilia has built a solid experience in communication for the selection and training of Human Resources, an area where it's necessary to focus on two distinctive audiences: companies and candidates.
To generate visibility among those two main targets, we develop media relations programmes aimed at both the corporate world – business pages on dailies and newsmagazines – and consumer media, including local and regional press in order to distribute our messages over the entire Italian territory.
PR for start-ups, fin-tech companies and Saas (software as a service) platforms
start-ups and disruptive businesses is often to be known, emerge from the crowd and differentiate themselves in the market.
That's why our efforts for innovative organizations often focusses on the definition of the strategic positioning together with the development of Corporate and Marketing Communication plans aiming at creating a distinctive identity.
Are you looking to improve reputation and visibility for your organization?
Come and visit our Milan agency, we'll be at your service!