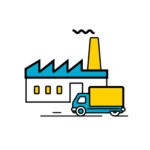 B2B and Corporate PR for Transportation and Logistics. On the road of communication.
With the logistic and transport industry, we share the inclination towards organizing and planning, the basis of our way of doing PR. Because of this affinity we can easily relate to companies working in this highly specialized sector.
A sector of which we know the nature, the stakeholders and the communication needs, such as reinforcing image and reputation.
Clients who have chosen Ad Mirabilia for the Transportation and Logistics communication