L'iniziativa di Visit Finland diventa digitale e permetterà a tutti di imparare la felicità grazie ai preziosi consigli (a distanza) personalizzati delle persone più felici al mondo.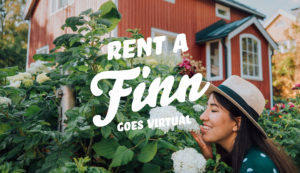 "Rent a Finn goes Virtual" è la nuova iniziativa social di Visit Finland, l'Ente che si occupa della promozione turistica della Finlandia, che permetterà agli italiani di sentirsi più felici e guardare con fiducia al futuro, imparando le abitudini quotidiane dei finlandesi. La campagna prende spunto dalla precedente edizione Rent a Finn del 2019 e la porta online, eliminando così ogni confine. L'attività si comporrà di una serie live streaming durante i quali degli esperti spiegheranno come trarre beneficio "alla maniera finlandese" dai diversi ambiti del quotidiano. Inoltre, sarà possibile approfondire questi argomenti richiedendo una sessione individuale con queste "Guide Virtuali" alla felicità.
A marzo, la Finlandia è stata dichiarata dall'ONU la nazione più felice al mondo per il terzo anno consecutivo ed è per questo che, specialmente in un momento così difficile, Visit Finland ha deciso di lanciare un'iniziativa che potesse donare un po' di questa felicità anche alle persone degli altri paesi.
"Vogliamo incoraggiare le persone a prendersi cura di se stesse e dei loro cari mentre pensano al futuro e sognano il prossimo viaggio. La campagna Rent a Finn del 2019 è stata un grande successo e, in questi tempi incerti, vogliamo dare alle persone l'opportunità di conoscere i segreti della felicità attraverso i consigli diretti dei finlandesi, indipendentemente dal luogo in cui si trovano, che sia il divano o il terrazzo di casa.", commenta Paavo Virkkunen, Executive Director di Visit Finland presso Business Finland.
Un incontro virtuale con una Guida alla Felicità
La nuova campagna "Rent a Finn goes Virtual" prevede l'apprendimento interattivo e l'incontro virtuale con delle vere e proprie Guide alla felicità virtuale, specializzate nel singolo argomento trattato grazie al proprio lavoro e alla propria vita quotidiana.
La serie di live social si compone di diverse sessioni e si concentra su cinque diverse aree dello stile di vita finlandese utili a ritrovare una stabile sensazione di felicità. Gli incontri verteranno sull'alimentazione con Eat with a Finn, sul benessere interiore con Relax with a Finn, sull'attività fisica con Be active with a Finn e sul tempo libero con Spend time with a Finn, per poi arrivare ad una sessione più generale con Be happy with a Finn.
Inoltre, per chi volesse dei consigli personalizzati e "Made in Finland" su come allenarsi efficacemente, occupare in modo migliore il proprio tempo libero, mangiare sano o in generale, rendere più felice la propria vita, durante la settimana del 22 giugno le Guide virtuali alla felicità saranno disponibili per incontri individuali di 15 minuti via Teams, Hangouts o Skype.
Gli slot sono prenotabili, scegliendo l'argomento preferito e la Guida di riferimento sul sito della campagna https://rentafinn.com/ . Le candidature sono aperte fino alle alle 22.59 del 7 giugno.
Calendario streaming in diretta sul canale Facebook di Visit Finland il venerdì alle 16.00 con discussione a seguire su Instagram Live (controllare eventuali cambi di orari tramite la pagina web della campagna)

15 MAGGIO: RELAX WITH A FINN

Guida virtuale alla felicità: Päivikki Koskinen, giornalista, allenatore terapeuta, amante della sauna e del nuoto su ghiaccio
Attività: Sauna, nuoto e preparativi prima della sauna nella natura
Come prepararsi: Prendetevi una bibita fresca e un grande secchio di acqua fredda. Anche un asciugamano può essere utile.
22 MAGGIO: SPEND TIME WITH A FINN

Guide virtuali alla felicità: Mirja Priha, Insegnante di sostegno, ciclista e proprietaria di un caffè & Molla Mills designer e insegnante di artigianato
Attività: Faidate, lavorare all'uncinetto, imparare il finlandese, immergersi nella natura, esercizi sensoriali, spostarsi in bici.
Come prepararsi: Trovare uno spazio tranquillo e pensare alle domande che vorresti fare rispetto a possibili hobby e attività ricreative
29 MAGGIO: STAY ACTIVE WITH A FINN
Guida virtuale alla felicità: Antti Etelämäki, appassionato di vela e outdoor & Jukka Joutsiniemi, imprenditore, allenatore e appassionato di outdoor
Attività: Navigare ed allenarsi nella natura
Come prepararsi: Abbigliamento comodo e acqua per reidratarsi
1 GIUGNO: EAT WITH A FINN
Guida virtuale alla felicità: Lo chef stellato Michelin Sasu Laukkonen
Attività: Raccogliere erbe selvatiche in ambienti urbani e utilizzarle per cucinare
Come prepararsi: un paio di stivali di gomma e alcuni accessori da cucina
12 GIUGNO: BE HAPPY WITH A FINN
Guida virtuale alla felicità: Il villaggio di Mathildedal
Attività: Un tour del villaggio per trovare la chiave della felicità grazie a molte fonti diverse
Come prepararsi: Una sedia comoda e un paio di domande su quale sia il segreto della felicità dei finlandesi. Forse troverete le risposte durante questo viaggio dal vivo nel villaggio di Mathildedal.
https://www.facebook.com/visitfinland
https://www.instagram.com/ourfinland/?hl=fi